A Range of Massage Modalities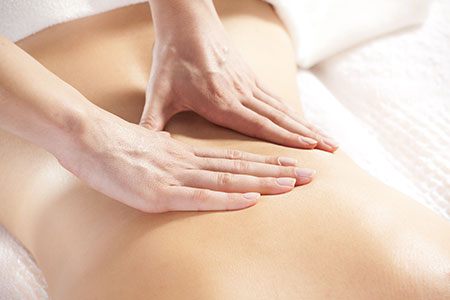 Massage is a healing art, but like any health practice, it's never a "one size fits all" solution. To ensure the best, most lasting benefits for massage clients, Power of Touch LLC takes pride in providing a full range of massage modalities. From classic Swedish massage to reflexology in Indianapolis, IN and beyond, our highly trained staff is immensely experienced in numerous focuses, including:
Craniosacral therapy: Craniosacral therapy is a gentle, but powerful, hands-on healing technique. Your brain and spinal cord are protected and surrounded by cerebrospinal fluid. Craniosacral therapists use both the dural tube and the bones of the head, working with the natural rhythms of your body, to release blockages in the flow of the fluid, allowing your body to restore itself.
Myofascial release: Myofascial Release and Myofascial Unwinding use mild to moderate pressure, movement and pulling to stretch and soften the fascia (the dense, connective tissue of the body). It helps break down restrictions and scar tissue, decreasing your body pain and increasing function, giving you a greater range of motion. This entire fascial system greatly influences all other structures and systems of the body.
Energy/Structure balancing: Energy/Structure balancing is a hands-on method for aligning body structure with the body's electromagnetic energy. It combines both Eastern and Western medicine to clarify and coordinate energy fields in the body, based on the skeletal system. It helps relieve pain and balances all of the body's functions to build a foundation for optimum health.
Repetitive use injury therapy: Repetitive Use Injury Therapy, of European origin, uses short, repeated stretching and compression movements to help tight muscles regain their normal length. This technique breaks up scar tissue, lengthens muscles, restores muscle memory, and relieves pain. Chronic pain CAN be controlled.
Sports massage: Sports massage allows athletes to reach their full potential by reducing injury and fatigue, increasing muscle tone, and sustaining peak performance. It can be used before and after events, during routine training, and while recovering from injuries.
Lymph drainage massage: Lymph drainage massage is a very relaxing form of therapy, using the lightest of touches. It stimulates the lymph system to help remove toxic waste and excess fluids from the body. At the same time, it helps strengthen the immune system, and it heals and regenerates tissues.
Deep tissue massage: Deep Tissue Massage focuses on the deep tendons, ligaments and muscles that can't be reached with a light touch. Slow strokes and deep pressure help release scar tissue and chronic tension patterns, release toxins and promote circulation.
Reflexology: Reflexology is an effective form of therapeutic foot massage. It consists of pressure on precise reflex points on the feet, which correspond to particular body parts and their functioning to stimulate the body's healing potential.
Acupressure: Acupressure creates a smooth flow of energy through the body by using firm fingertip pressure on particular points. These points coordinate with different organs and areas of the body, and when those organs or systems are stressed, acupressure balances the energy and helps them work properly again.
Thai medical massage: Thai Medical Massage is based upon ancient Tibetan and Ayurvedic (India) medicine to treat the whole body, promoting unrestricted flow of life energy. It is done clothed, utilizing energy (SEN) pathways and includes gentle rocking, pulling, stretching, and other range of motion techniques. This therapy is completed on a mat on the floor, rather than on a table.
Seated massage therapy: Seated Massage Therapy lets people with limited time and budgets receive the benefits of massage. A specially designed chair allows, with the body in a near fetal position, focused therapy for your head (headaches), neck, back, shoulders, and arms while clothed, quickly and comfortably reducing muscle tension and stress and increasing circulation.
Reiki: Reiki (pronounced ray-kee) is an Oriental technique that uses the life force energy for self-healing, harmony, and transformation. It provides balance for the spiritual and physical body, and enhances both conventional and alternative healing therapies.
Neural reset therapy: By stimulating mechanoreceptors with pressure and force, massage professionals can help to "reset" specific muscles and muscle groups to optimal physiology, alleviate tension and stress that may be hindering range of motion or capability.
Quantum touch: This method of self-healing promotion works by stimulating the body's natural ability to restore homeostasis. By channeling vibration, a massage professional can influence life-energy in a way that draws attention to naturally-weakened areas of the body, causing them to rejuvenate.
Swedish massage: Swedish massage works all major muscle groups, loosening them and alleviate stress that can lead to strain or tightness. It uses manipulative techniques such as stroking, kneading, rubbing and percussion to relieve pressure.
From deep issue massage to myofascial release, quantum touch to Reiki in Indianapolis, IN, make your appointment with Power of Touch LLC today to experience the highest level of relaxation, relief and total body wellness.
Products We Offer
In addition to a bevy of massage modalities, we're also pleased to stock a wide range of holistic wellness products as well. Our recommendations for clients include BioFreeze and Hemp Salve, two proven products that assist in balancing the body and promoting sustained homeostasis.